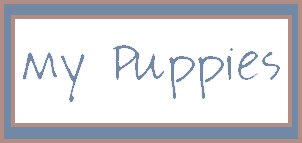 ((ok, so technically they're not puppies any more lol))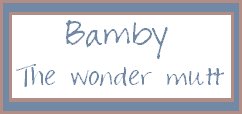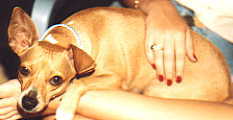 My neighbor at the time picked her up after the Dobie she was with got
hit and killed by a car on the Florida Turnpike. They named her Bamby for her coloring and her deer-like jumping. Unfortunately, the neighbors could no longer take care of her, and were looking to give her away or take her to the Humane Society. We had never had a domestic pet because my parents thought they were too much trouble to take care of and too expensive to maintain. Of course, I instantly went into the temper tantrum of all time... I didn't eat, didn't talk to anyone, and cried a lot. hehehe. My parents finally agreed that I could have her because even my parents had fallen in love with her and didn't want her to be put down.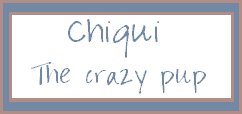 Spoiled? Never! lol
This pure breed chihuahua came into our family way before "yo quiero taco bell" was in style. My grandmother was living above the woman who had them and suggested we buy one for ourselves. My mother and sister didn't want another dog, but my father and I did. My father said something along the lines of "we're going to get one and that's that". Somewhere along the lines she stopped being my father's and started being my sisters. lol. So here she is... Ms. Priss. Although it's not proven, we believe she was the runt of the litter because she is small even to chihuahua standards. Oh, and why is she crazy? The dog acts like a cat (rubbing and twining against your feet and ankles) or a bird (crawls up on your shoulder) more than a canine.